This Instant Pot Ramen is delicious, with chicken, eggs and vegetables in a hearty chicken soup. Spice up the ramen noodles with hot oil for an extra kick.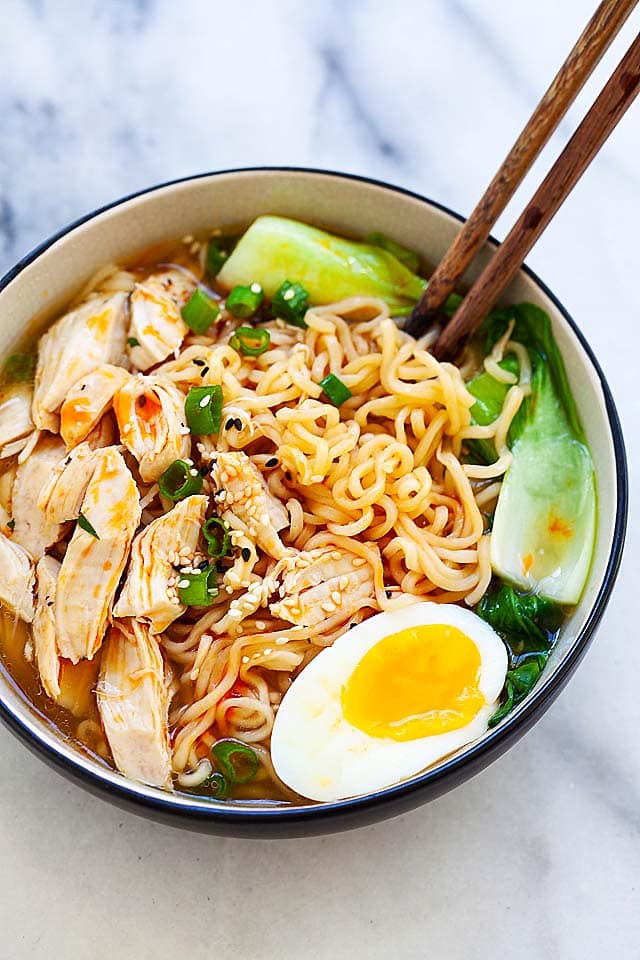 1

lb.

chicken tenders or chicken breasts

salt

ground black pepper

1 1/2

tablespoons

vegetable oil

4

cups

low-sodium chicken broth

2

cups

water

4

eggs

3

packages

ramen noodles, discard the seasonings

8

oz

bok choy, stem removed and sliced into pieces

1 1/2

tablespoons

soy sauce or Japanese soup base

(add more to taste)

4

stalks

scallion, white parts into 2-inch length and green part into rounds

black and white sesame, optional

chili oil

(S&B La-Yu Chili Oil)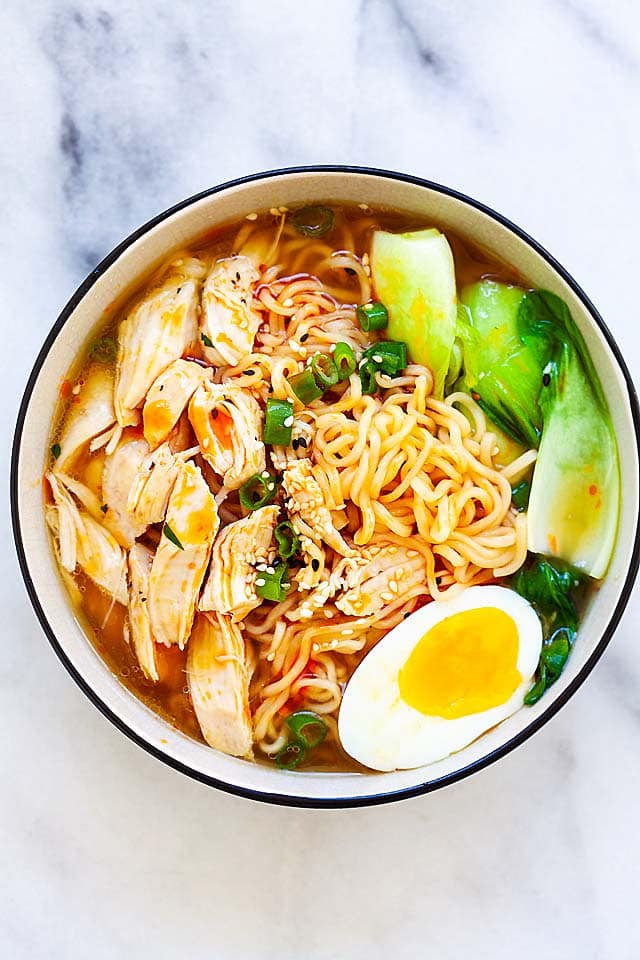 Instructions
Season the chicken with salt and ground black pepper on both sides of the chicken.

Turn on the Saute mode on the Instant Pot. As soon as the pot is fully heated and hot, add the oil. Pan sear the chicken until both sides turn brown.

Add the chicken broth, water, and the white parts of the scallions. Cover the pot and select Manual and set to High pressure for 10 minutes.

Meanwhile, make the ramen eggs. In a small pot, add cold water. The water level must be deep enough to cover all eggs. When the water boils, add the eggs and cook for 7 minutes. When your eggs are done cooking, plunge them into ice water and leave to sit for 5 minutes. Carefully peel off the shells, while the eggs are still in the water. Make sure you remove the membrane covering the egg white. Slice the eggs into halves. Set aside.

When the Instant Pot beeps, turn to Quick Release. When the valve drops, remove the lid carefully. Discard the white parts of the scallions and scoop out the chicken. Let cool and shred the chicken using two forks.

Turn to Saute mode and as soon as the soup boils, add the chicken and ramen noodles. Make sure you push the ramen noodles down so they submerge in the soup.

As soon as the ramen noodles becomes soft (no longer in a block), add the bok choy and soy sauce. Stir the ramen around. Cancel Saute mode and remove the pot. DO NOT OVERCOOK the ramen as the noodles will continue to cook even after you remove the pot.

Divide the ramen noodles into four bowls. Top with ramen eggs, chopped scallions, sesame seeds (if using), and dashes of chili oil. Serve the ramen immediately, do not keep in the pot as they will turn soggy.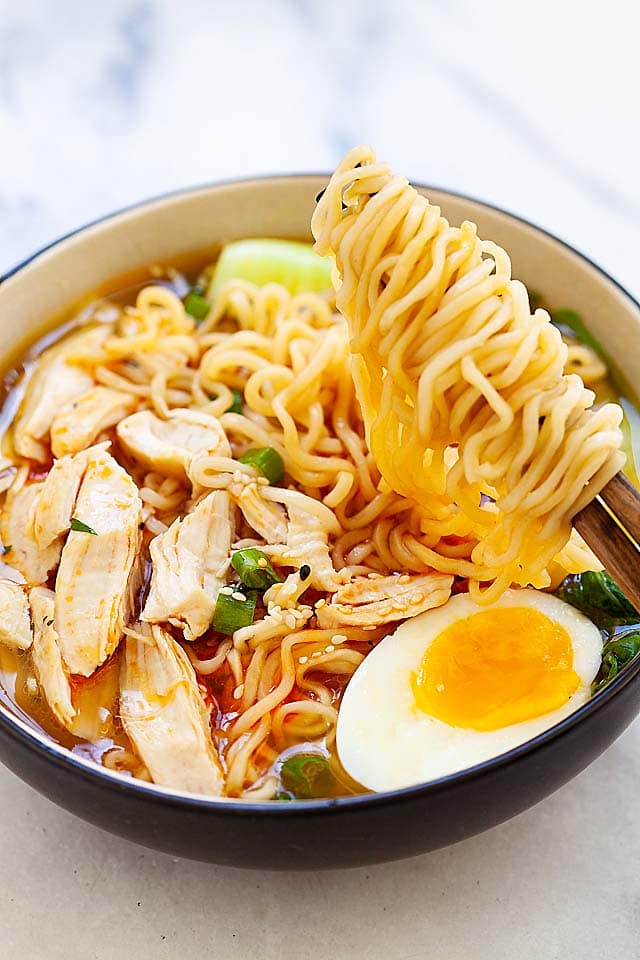 Recipe Notes




To make eggs, please follow my

Ramen Eggs recipe here.

If you don't have an Instant Pot, you can make this ramen noodle soup on a stove pot. Just use a regular pot to make the recipe.

For the seasoning, please use Japanese Bonito-Flavored Soup Base such as Mizkan, if you have it. If not, use light soy sauce.