CHIPOTLE CHICKEN SALAD
This Chipotle Chicken Salad is bursting with tender, juicy fiestalicious chicken, crunchy veggies, salty sunflower seeds and crispy tortilla strips all sprinkled with buttery Monterrey Jack Cheese and doused in sweet, tangy and refreshing Honey Lime Mango Dressing!
1

Recipe Chipotle Chicken
1

large head romaine

lettuce, chopped (about 8 cups)

fresh corn kernels from 1 ear of sweet corn

1/2

cup

grape tomatoes, halved

3/4

cup

black beans,, drained and rinsed

1/2

cucumber

peeled, quartered, chopped

1

red bell pepper, chopped

1

avocado, sliced or chopped

1/4

red onion, thinly sliced
1/2

cup

roasted salted sunflower seeds

3/4

cup

shredded Monterrey Jack cheese

tortilla strips or bacon

(I prefer tortilla strips)
1 1/4

cups

chopped ripe mango (1 large mango)

1/3

cup

canola oil

2

tablespoons

honey

1

tablespoon

cider vinegar

2

tablespoons

lime juice

1/2

jalapeno

seeded, deveined, roughly chopped

2

garlic cloves, peeled

1/2

teaspoon

salt

1/4

teaspoon

ground cumin

1/8

teaspoon

pepper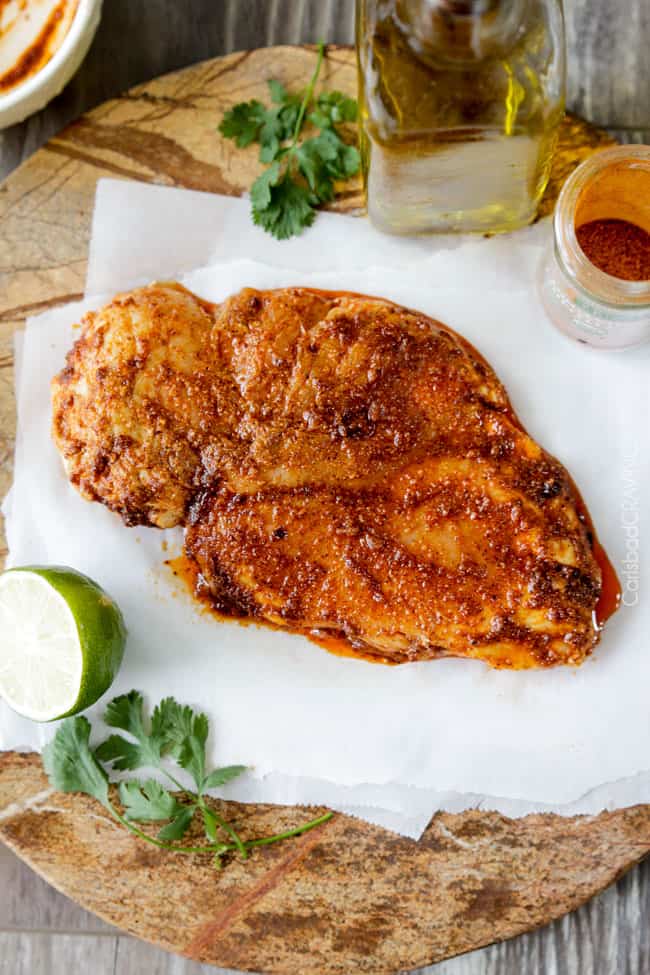 Honey Mango Dressing: Add all of the ingredients to your blender except the canola oil and chop then puree until smooth. Blend in canola oil. Taste and add additional jalapeno for spicier, honey for sweeter, and/or lime juice for tangier. Chill.

Prepare Chipotle Chicken according to directions. Chop or thinly slice cooked chicken.

To assemble, toss the chicken, Salad Ingredients, cheese and sunflower seed together in a large bowl. Garnish individual servings with tortilla strips and drizzle with dressing.
*for a creamier dressing add 1-2 tablespoons mayonnaise if desired.