Cajun Lime Chicken Avocado Corn Salad
Cajun Lime Chicken Avocado Corn Salad - this salad has so much flavor! Creamy, light, and drizzled with a Cilantro Lime Dressing. It is quick and easy to make and perfect for your next barbecue or get together. Light on the calories - coming in at only 203 calories per 1 cup serving.
The best part? It's just as delicious the next day, making this a good meal for your to-go lunches for either work, school, or travel.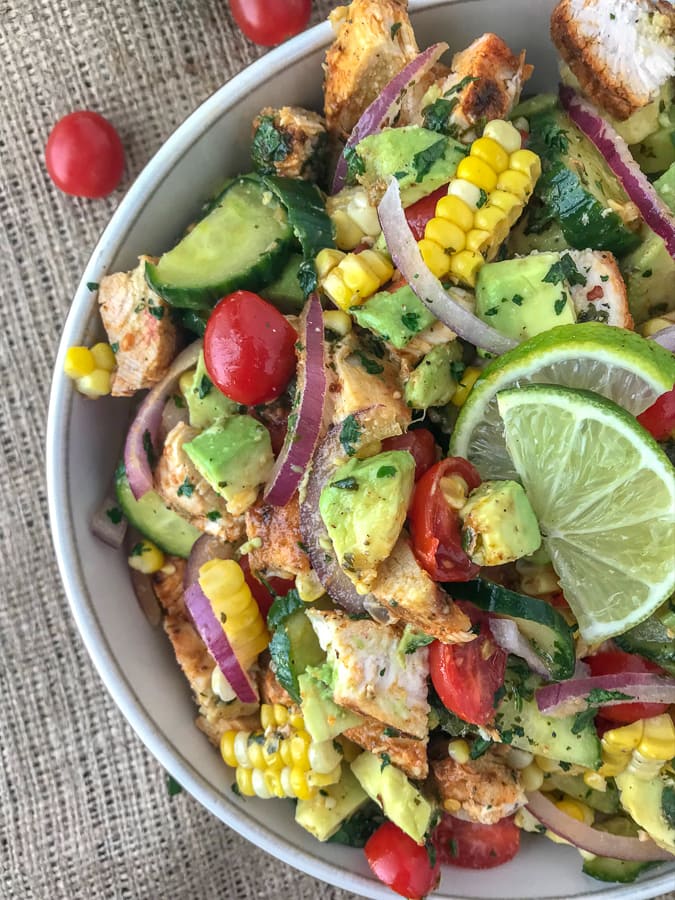 Ingredients:
Blackened Chicken:
1/2
lb
chicken breast
(boneless, skinless, thinly sliced)
1
tbsp
olive oil
(extra virgin)
1/8
tsp
salt
(or to taste)
black pepper
(to taste)
1/4
tsp
smoked paprika
(or regular)
1/8
tsp
onion powder
1/4
tsp
garlic powder
1/8
tsp
ground cumin
1/8
tsp
chili powder
1/8
tsp
oregano
1/2
lime
(juiced)
Cilantro Lime Juice Dressing:
3
tbsp
lime juice
2
tbsp
olive oil
(extra virgin)
1
tbsp
cilantro
(freshly chopped (or parsley))
1/4
tsp
salt
(or to taste)
1/8
tsp
pepper
(or to taste)
1/4
tsp
crushed red pepper flakes
(or to taste, optional)
Salad:
1
english cucumber
(cut lengthwise and then into slices)
1
cup
cherry tomatoes
(halved)
1/4
medium
red onion
(sliced thin)
1
ear of corn
(cooked)
1
medium
avocado
(pitted, peeled, diced)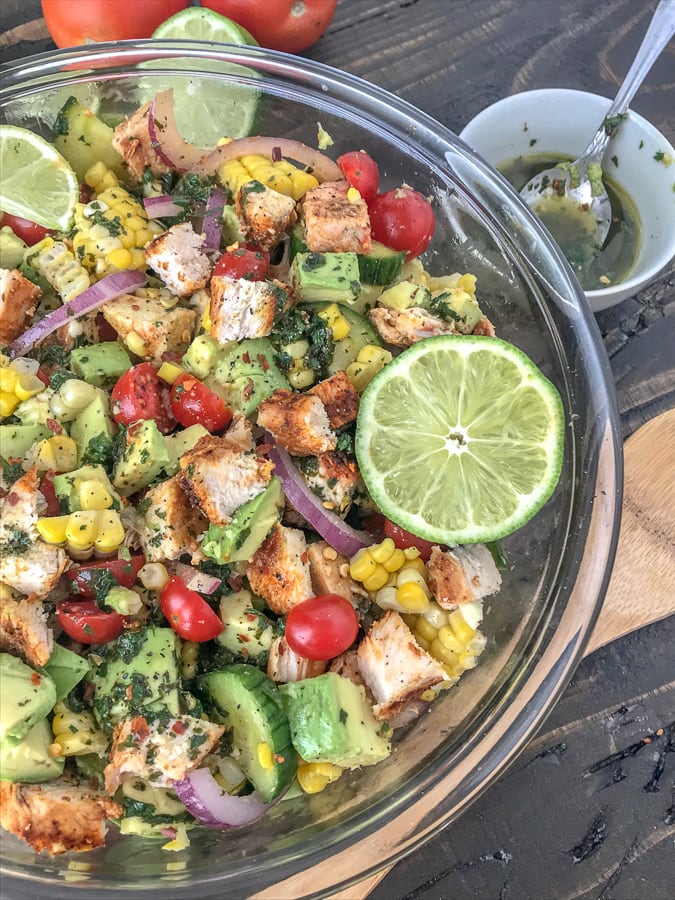 Instructions:
Chicken:
Preheat a nonstick griddle pan over medium heat with 1 tablespoon of olive oil. Be sure to brush the olive oil to coat the entire pan.
Remove chicken from package. Rinse and pat dry.
Combine all seasonings and 1 tablespoon of olive oil into a mixing bowl (or Ziploc bag).
Add the chicken breast and toss to coat.
Once the grill pan is heated, at the chicken breast and cook on each side approximately 3-4 minutes, flipping once. Time will be dependent on the thickness of the chicken breast.
Remove from pan to a plate and allow to cool.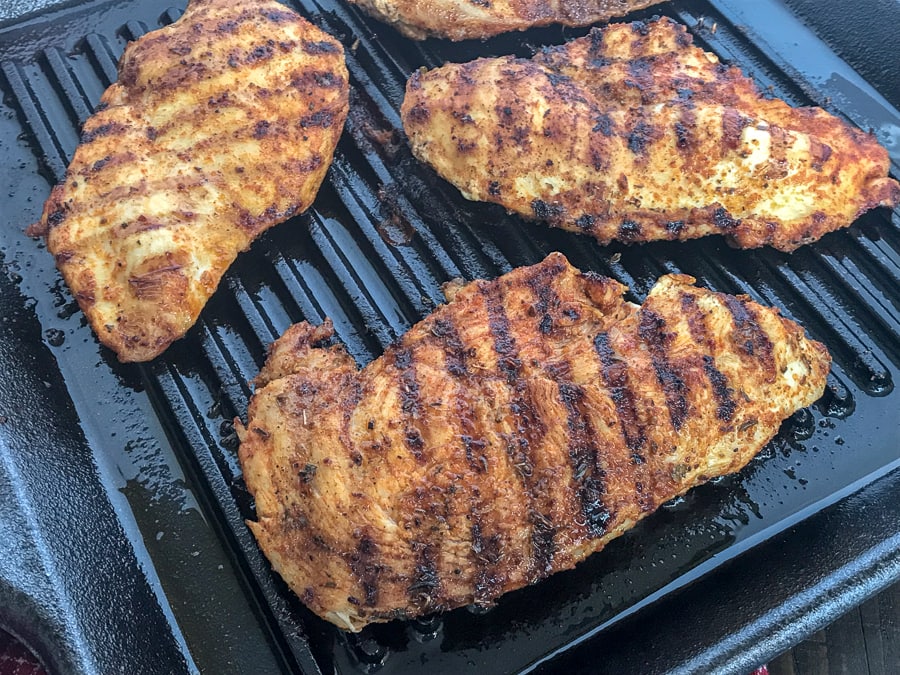 Cilantro Lime Juice Dressing:
While the chicken is cooking, combine all ingredients for the dressing into a small mixing bowl. Whisk to thoroughly combine.
Salad:
Once the chicken has cooled, cut each breast into small cubes. Combine in a large bowl with salad ingredients: cucumber, tomatoes, red onion, corn, and avocados.
Drizzle dressing over the top. Toss to fully combine.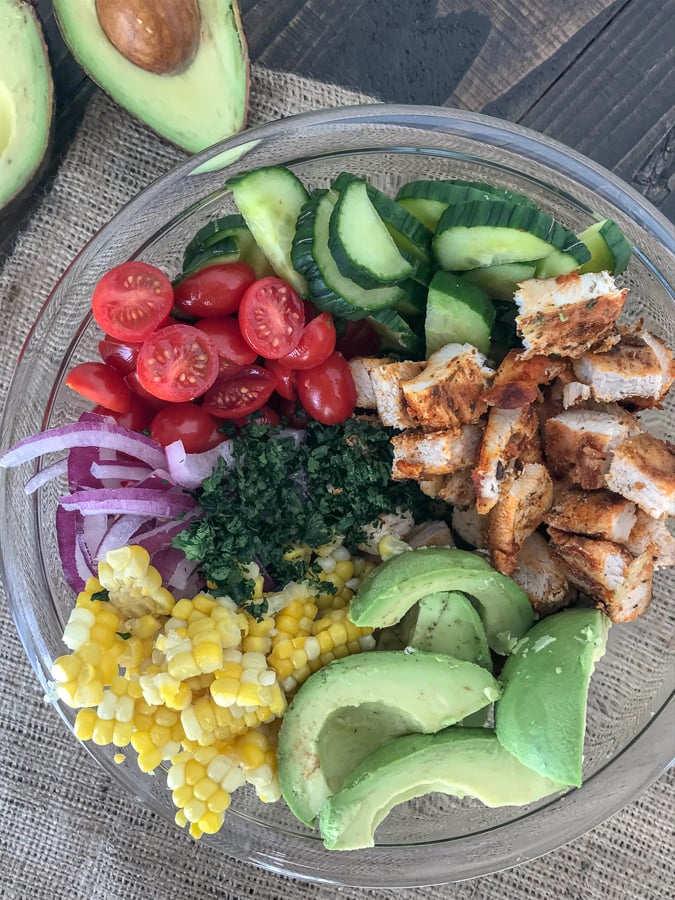 Notes:
Avocado Tips:
I get asked quite often how to keep the avocado fresh in salads like this. My best advice is to coat the avocado in either lemon juice or lime juice. The acidity will help prevent the avocado from spoiling so quickly.
You can also add the avocado right before you're ready to eat this.
I would also aim to use avocados that are

just

starting to turn/ripen. They will still be on the firm side, but have a little softness and give to them. Not only will they last longer, but they are easier to cut into chunks or cubes.
Store in an airtight container in your fridge.
As with anything - this salad is best enjoyed within the first few hours of making. The cucumbers will start to soften and lose their crisp texture from the additional moisture in the salad.
Be sure to give this salad a good stir, as some of the dressing will settle to the bottom.
Add the avocado and dressing right before you serve.
If you're not a fan of cilantro, feel free to substitute with parsley.
You can use either a cooked ear of corn, whether grilled in the husk or boiled in water. You can also substitute with frozen (thawed) corn or canned (and drained) corn.